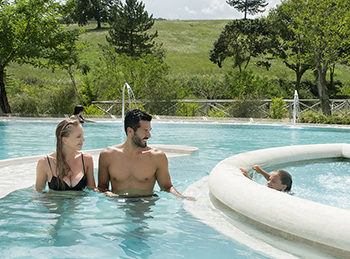 Terme di Chianciano
Piazza Martiri Perugini Parco Acqua Santa,
Chianciano Terme, (SI)
Tel. (+39) 848 800 243
prenotazione@termechianciano.it
www.termechianciano.it
Terme di Chianciano are located inside Parco "Acqua Santa" (address is Piazza Martiri Perugini, in Chianciano Terme, in the heart of Valdichiana Senese, in Tuscany). The water for the treatment of liver and gastro-intestinal tract flows here, namely, the "Acqua Santa" and "Acqua Fucoli".  The Terme di Chianciano are open all year round, and are an ideal place for spa holidays. In Chianciano Terme, you can enjoy Thermal treatments, which are ideal for your psychophysical well-being, thanks to the various facilities dedicated to beauty, personal care, and relaxation.
The staff of Terme Sillene deliver, in agreement with the National Health Service, mineral water treatments with Acqua Santa, baths and arthroreumatic mud treatments, therapeutic spa baths for vascular diseases, inhalation spa treatments, muskuloskeletal and skeletal rehabilitation. Terme "Sillene" are directly connected to the Thermal Pools "Theia", which are fed by the water of the same name, whereas Sensory Spa are located in Parco "Acqua Santa".
THERMAL POOLS "THEIA" – Via della Foresta
Thermal Pools "Theia" are fed by the water of the Source "Sillene", at a temperature ranging between 91.4°F and 96.8°F, and are available all year round, thanks to 4 outdoor pools and 3 indoor pools, interconnected and equipped with water games, whirlpool, and cervical waterfalls. The outdoor pools are surrounded by a garden, and you can freely use deckchairs, sun loungers, and umbrellas. The depth of the swimming pools is about 130 cms., and the total area is about 536 square meters. You can have dinner at the bistro, which features a menu including local flavours, Tuscan first dishes, pizza, sandwiches, salads, and other healthy snacks.
TERME SENSORIALI – Parco Acqua Santa – Piazza Martiri Perugini
At Terme Sensoriali [Sensory Spa], you can choose different types of treatments: puroifying, energizing, rebalancing, relaxing (which you can combine with a gourmet path). In the 20 rooms, which are also called "le 20 meraviglie" [The 20 Wonders], you can enjoy hot tubs, energy pyramid, melmarium, ice crash, two saunas, Turkish bath, emotional shower, the source of Acqua Santa (which displays a charming sculpture evocating the source, which is located in the adjacent Park), aromatherapy, chromotherapy, music therapy, Kneipp path and the room of inner silence, a nice outdoor garden, and a relaxation room. Depending on the path you will choose (and you can customize it by the interview with a naturopath), you will get a specific result. On the upper floor of the Sensory Spa, you will find the Wellness Center, which has been designed to combine modern technologies with classical aesthetics and treatments derived from the wisdom of the East, ranging from naturopathy to holistic medicine. Enrich your visit to the Sensory Spa with another sense, namely that of taste, thanks to a buffet, which combines lightness and goodness of the dishes, stimulating also the other senses.
More info on: www.termechianciano.it