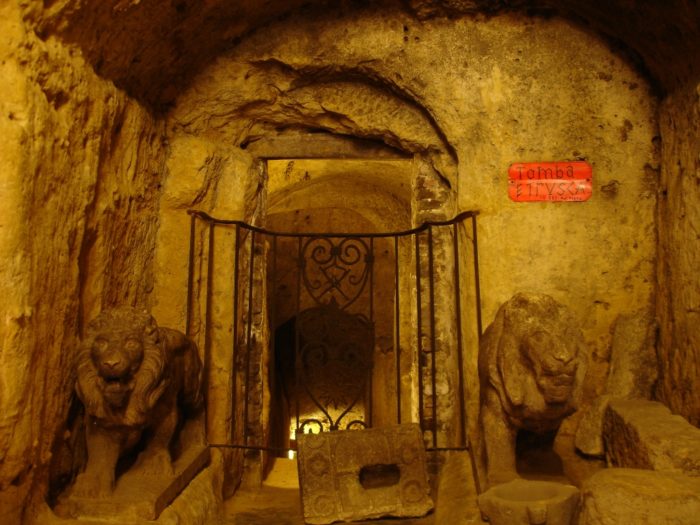 Underground city Ercolani C&M
Via di Gracciano nel Corso, 80
Montepulciano (SI)
Tel: (+39) 0578 716774
info@ercolanimontepulciano.it
www.ercolanimontepulciano.it
The Subterranean city, which was built on Etruscan tombs, was used as foundation for many important Renaissance buildings (Avignonesi, Del Pecora, Tarugi, Batignani).
It has been preserved partly as ageing cellars for Nobile di Montepulciano wine in oak and chestnut vats and partly for a permanent exhibition of iron tools and instruments of Gothic-Renaissance times.
The first core of the farm "Ercolani" was established in the '40s, thanks to the passion of the great-grandfather of the current owner for the winemaking art. The farm, officially established in 1988, today counts on a solid organization and a highly qualified staff, that deals with the management of approximately 150 hectares of land (cultivated according to a constant attention to the authenticity of raw materials, the finished product , and the cultivation processes. Particular attention is also given to traditional cuisine), the truffle fields, vineyards, olive groves, herds of sheep and direct sales. The farm personally oversees the approximately 14 hectares of vineyards located in different areas of the territory of Montepulciano. The most cultivated varieties are those essential for the wine making of Vino Nobile and Rosso di Montepulciano: Sangiovese (in its local clone: "Prugnolo Gentile"), Canaiolo Nero, Mammolo, Colorino and Ciliegiolo. In addition, the cultivation of other varieties, such as Malvasia Bianca, Grechetto and Trebbiano Bianco, gives life to a great Vin Santo DOC.