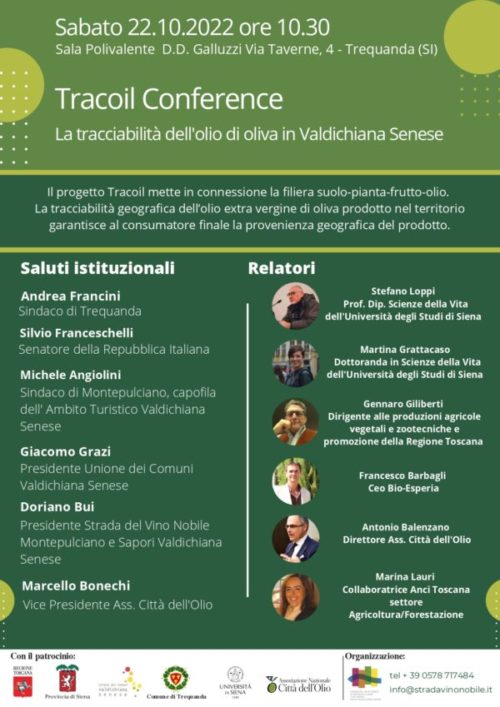 TRACOIL Conference
The traceability of olive oil in the Valdichiana Senese
Saturday 22 October 2022 at 10:30 am
Multipurpose room D.D. Galluzzi Via Taverne, 4 – Trequanda (SI)
The TRACOIL project connects the soil-plant-fruit-oil supply chain. The geographical traceability of the extra virgin olive oil produced in the territory guarantees the final consumer the geographical origin of the product.
The conference will be an opportunity to present the results of the three-year project dedicated to the geographical traceability of extra virgin olive oil in the territory of the Valdichiana Senese, promoted by the Union of Municipalities of the Valdichiana Senese and by the Strada del Vino Nobile di Montepulciano e dei Sapori della Valdichiana Senese, in collaboration with the University of Siena.
In addition to the presentation of the TRACOIL project, by Prof. Loppi and Dr. Grattacaso of the Department of Life Sciences of the University of Siena, Gennaro Giliberti, Director of agricultural, vegetable and livestock production and promotion of the Tuscany Region, Francesco Barbagli, CEO of Bio-Esperia, Antonio Balenzano, Director of the National Association of Oil Cities, Marina Lauri, Collaborator of Anci Toscana – Agriculture / Forestry sector.
Conference is given in italian language.
See Facebook event here.