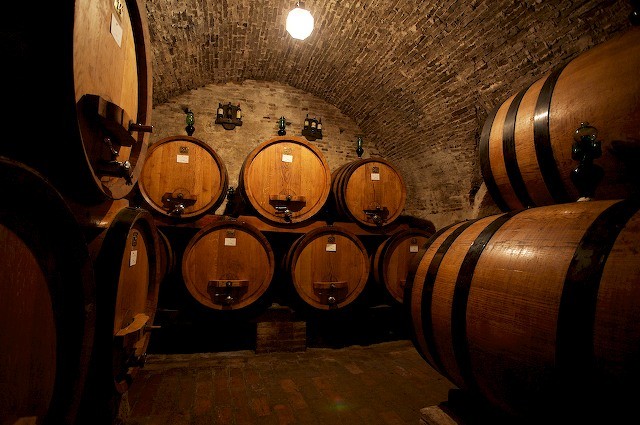 Contucci
Via Del Teatro, 1
Montepulciano (SI)
Tel: (+39) 0578 757006
info@contucci.it
www.contucci.it
The Contucci family ranks amongst the most and established ones in Montepulciano and began to cultivate vines since before the Renaissance period, and today boasts a farm, which extends over 170 hectares, 21 of which is cultivated with vineyards. The vineyards only consist of native vines, and are trained to spur-pruned cordon; the agronomic interventions and the harvesting are carried out with the utmost respect for the local environment. The production, including red and white wines, as well as Vin Santo, points to a total of about 100.000 bottles per year. The sale of the products, which also includes an excellent extra-virgin olive oil, at a 50% takes places directly in the cellar, and the remaining is exported abroad. The cellar, open all year round, is located in the heart of the historical centre of Montepulciano, and takes a short walk from the Teatro Poliziano, as well as from the Cathedral (devoted to St. Mary of the Assumption). A car parking is available at about 200 metres from it.
TOTAL HECTARES OF VINEYARD: 20.86.91 HA;
NOBILE DI MONTEPULCIANO: 15.38.51 HA;
ROSSO DI MONTEPULCIANO: 3.21.99 HA;
VIN SANTO DI MONTEPULCIANO: made from Vino Nobile di Montepulciano;
ANNUAL PRODUCTION (number of bottles): 100.000.
WINES WITH DESIGNATION OF ORIGIN PRODUCED BY THE WINERY:
Rosso di Montepulciano DOC;
Vino Nobile di Montepulciano DOCG ("Annata" and "Riserva", Selections "Pietra Rossa" and "Mulinvecchio")
Harvest period: October 5 – October 15
Opening period: April-October: 9:00 am to 7:00 pm;
January-March: 9:30 am to 12:30 am and 2:30 pm to 6:00 pm;
November-December: 9:30 am to 12:30 am and 2:30 pm to 6:00 pm
Foreign languages: English, French, German