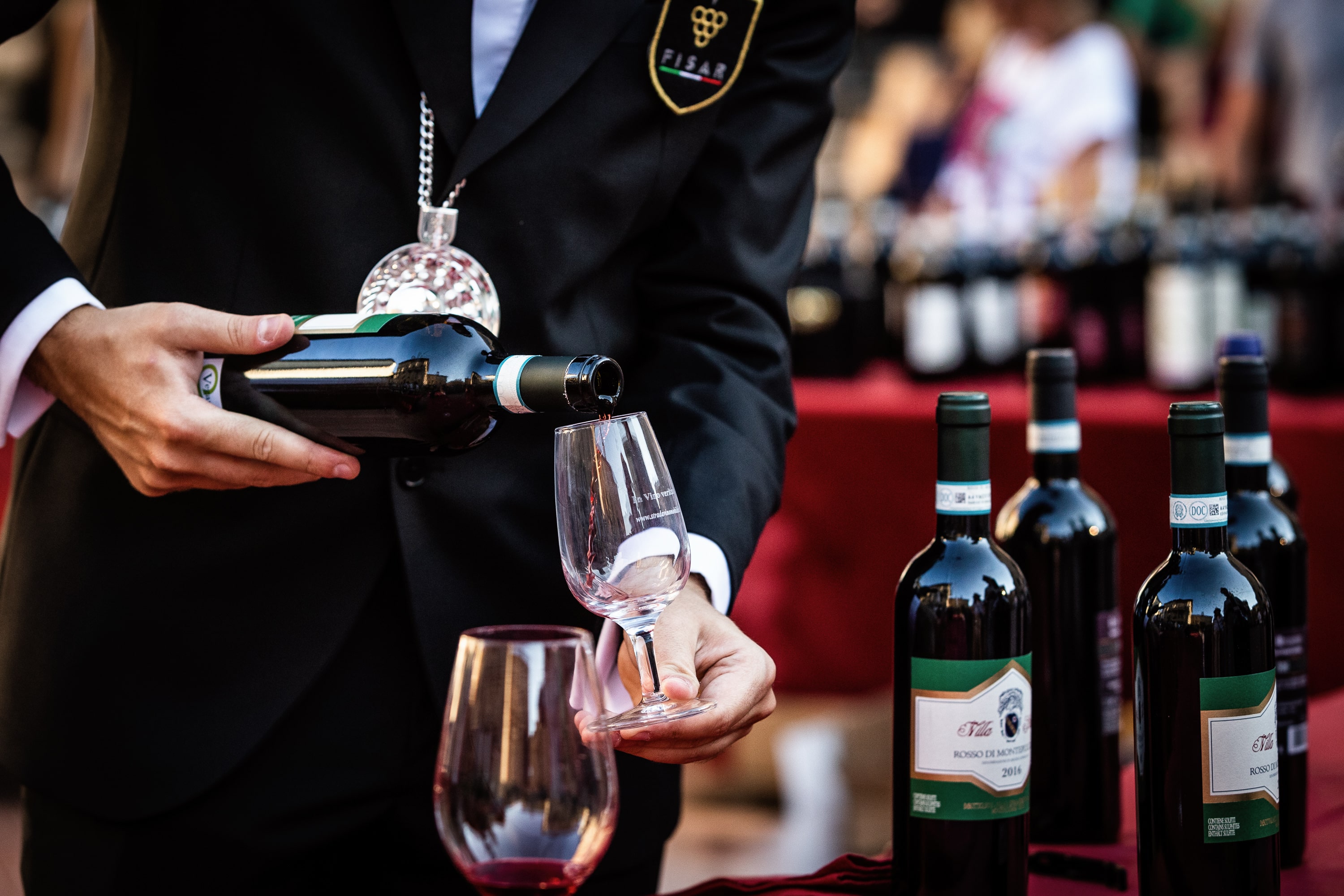 Calici di Stelle a Montepulciano: 10th of August 2020
Reserve your tastings and book special tours at "Calici di Stelle a Montepulciano"
from 7:00pm to 8:00pm
from 9:00pm to 10:00pm
from 10:30pm to 11:30pm
Tastings of Nobile di Montepulciano Docg and Rosso di Montepulciano Doc combined with local products in exclusive locations in Montepulciano.
Price per person: € 15.00 (valid for a tasting in one locations). Price includes: 2 tasting of Rosso di Montepulciano DOC + 2 tastings of Vino Nobile di Montepulciano DOCG + tasting of local products.
It includes: 2 tastings of Rosso di Montepulciano DOC + 2 tastings of Nobile di Montepulciano DOCG + tasting of local food.
CHOOSE THE TASTING YOU PREFER AMONG 4 EXCLUSIVE LOCATIONS – [Select the day August 10th from the calendar, choose the time and the number of people (max 4 per booking) and pay the tasting directly; we are waiting for you!].
CLOISTER OF PALAZZO DEL CAPITANO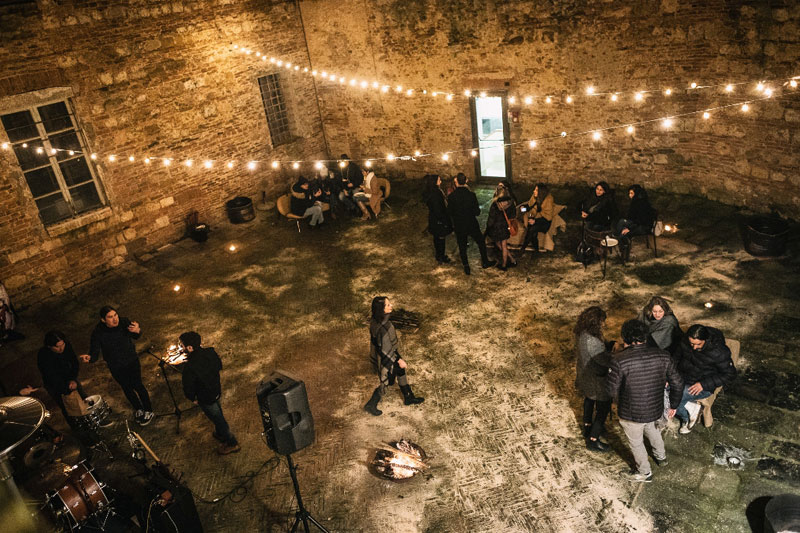 In Montepulciano, in the Renaissence Piazza Grande (the main square), just behind the Griffin and the Lion well, you'll find Palazzo del Capitano, the ancient Law Court in Montepulciano, where there were the jails of Montepulciano. Inside, just behind an ancient wood door on the right side of the main corridor, there are quite hidden the stairs that will bring you directly to the "La Bottega – Montepulciano". Here outside you will find the historical cloister and its timeless atmosphere.

PALAZZO RICCI'S COURT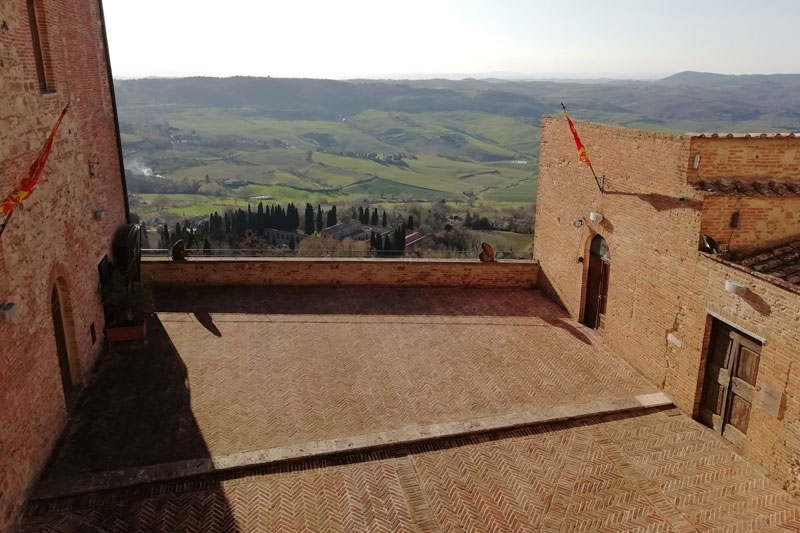 Built for Cardinal Giovanni Maria Ricci in the 16th century, this splendid palace will welcome you in its courtyard, from which you can enjoy a breathtaking view of the countryside of the Valdichiana Senese and Val d'Orcia. Home to many generations of the Ricci family over the centuries, today it houses the European Academy of Music.
TERRACE OF VICOLE DEL LEONE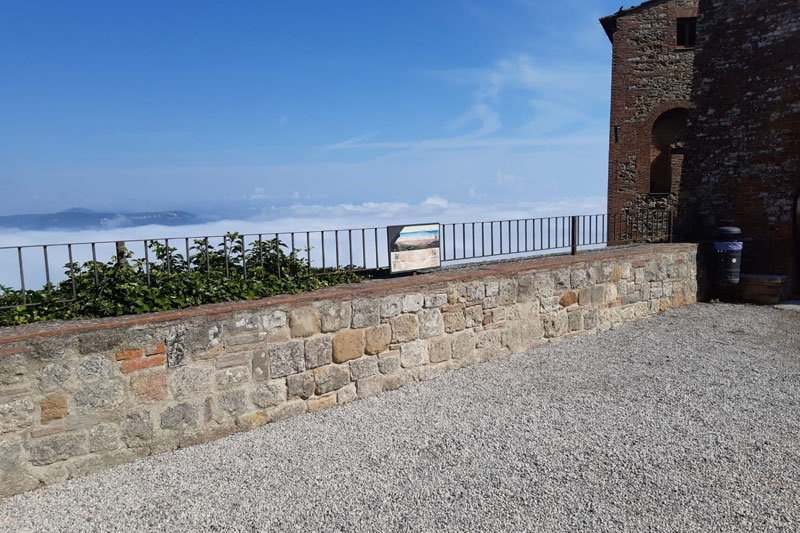 Few steps from Piazza Grande there is a secret corner of beauty: the panoramic terrace located at the end of Vicolo del Leone, just of the right side of the Municipality Building of Montepulciano. The walls of the historic buildings protect this pretty square, which for the occasion of Calici di Stelle in Montepulciano becomes the highest living room in town.

OPEN GALLERY OF SAN BIAGIO RECTORY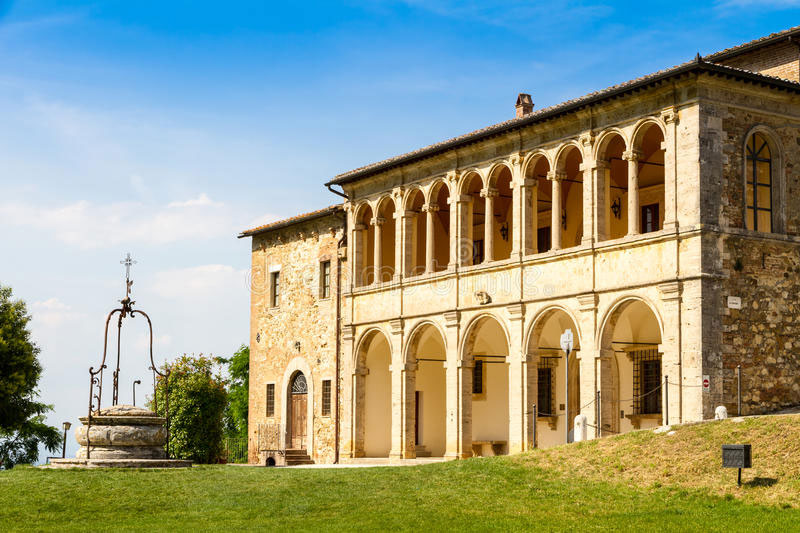 In front of the temple of San Biagio, a masterpiece by Antonio da Sangallo, there is the Canonica, an elegant late Renaissance work with a double loggia and five large arches. The colors of the evening warm the travertine walls and accompany the tastings with a unique spectacle, given by the perfect combination of man's work and natural landscape.

Explore Montepulciano waiting for Calici di Stelle!
From 4:30 pm to 6:30 pm – departure from Piazza Grande, 7
Wine tour by ebike CALICI SPECIAL: Reach a Vino Nobile winery in the Montepulciano countryside by electric bicycle.
Price per person: € 69.00.
Includes:
• 2-hour E-Bike rental with helmet
• Guide
• Visit to a winery
• Tasting of Rosso di Montepulciano DOC and Vino Nobile di Montepulciano DOCG
• Tasting of typical products
THE TOUR WILL BE HELD ON REACHING THE MINIMUM NUMBER OF 6 PEOPLE.
From 3:00 pm to 4:30 pm and from 5:00 pm to 6:30 pm – departure from Piazza Grande, 7
Tour of the historic cellars of Montepulciano CALICI SPECIAL: discover curiosities about Montepulciano and let yourself be accompanied in the suggestive visit of the monumental underground cellars of the historic center.
Price per person: € 20.00
Includes:
• Walk in the historic center of Montepulciano
• Visit of two cellars in the historic center of Montepulciano
• Tasting of Rosso di Montepulciano DOC and Vino Nobile di Montepulciano DOCG
THE TOUR WILL BE HELD ON REACHING THE MINIMUM NUMBER OF 6 PEOPLE