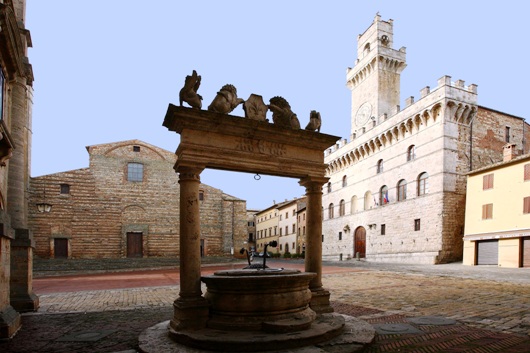 Four towns overlooking Valdichiana Senese runs for Capital of Culture of Italy for 2020 as an area
The application has been made official, and the dossier, which will be presented at the Ministry for Cultural Heritage, is currently being finalised.
In addition to the municipality of Montepulciano, which is the leader of the project, other participants, which thus form a true cultural area, are Chiusi, Castiglione del Lago, and Torrita di Siena
A wide territory comprising four municipalities (Montepulciano, Castiglione del Lago, Chiusi, and Torrita di Siena), two provinces (Siena and Perugia) and falling into two regions (Tuscany and Umbria), will run for "Capital of Culture of Italy for 2020".
The strategy by which this territory will cope with such ambitious challenge, will be decided in consultations with the four Municipal Administrations, in accordance with Fondazione Cantiere Internazionale d'Arte; such institution will also take care of preparing the dossier, which will then be presented to the Ministry for Cultural Heritage by friday september 15.
The leading project from which the candidature takes place, starting from the principles expressed by the Montepulciano's Cantiere Internazionale d'Arte, aims at creating a "virtuous mix" between the culture and art performed by the professionals, and that expressed at an amateur level in the territory of reference. In this sense, the continuous training (open to all) with professionals, who will also act on-line, on appropriate platforms and in multiple languages, will be essential.
At stake, in addition to the undeniable honour of becoming a reference point at a national and international level, with all the extensive media coverage that this implies, there is also the contribution of one million euros by the Ministry for Cultural Heritage, with which the project shall be implemented.
Financing and media coverage on the area could, in turn, generate other assets, with which it will be possible to give life, or support, to other initiatives, to be realized in this year, or traditionally well established in the cultural heritage of the four municipalities, as well as to the urban regeneration of the artistic and architectural heritage.
In this way, the Area of ​​the four Municipalities would become a place where art and culture would be not only "used up", but also produced in a sustainable and engaging way, especially for the citizens.
In November, the Ministry will skim the ten finalist candidates, which will then be called to present their project in specific meetings. By January 2018, the Capital of Culture 2020 (which in this case, instead of just one city, could be a set of cities overlooking Valdichiana) will be finally proclaimed.
Montepulciano, August 11th, 2017